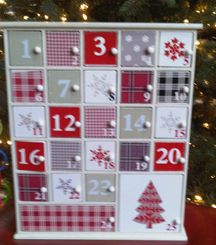 The day after Christmas 5 years ago I bought this awesome advent calendar. I figured at some point I'd figure out what to put in it. Last year I searched, and searched for ideas and came across the e-book
Truth in the Tinsel
by Amanda White. I figured that in order to get something I wanted that was age-appropriate and not "weird" I'd have to make it myself. Welp! Amanda had the same problem and to the initiative to write her own. I am SO thankful! December has the opportunity to influence tender little hearts away from The Gospel, so spend December impressing God's Word on your kids' heart! With this e-book you'll get 24 days of Scripture reading, ornament crafts, talking points and extension activities. It is fantastic and I can't wait to do it again this year. Also, this year she made a new e-book with printable ornaments for every day. Just in case your next few months are super hectic and you'd rather just have the kids do a simple craft

she also has a printable ornament book.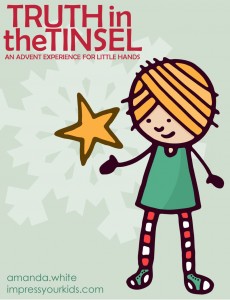 You don't have to have an advent calendar to use this book and you can spend as much or as little time (starting at about 20min/day) as you want on it every day.


Each day consists of:


1. The Clue


2. The Scripture


3. The Ornament (most of the stuff required to make these I already have in my craft supply box)


4. The Talk


5. MORE (extra stuff in case you want to spend more time)
The e-book is SUPER organized. It has a master list of every supply needed to complete the ornaments for the month, a daily supply list of each supply needed, easy and clear directions for every day, templates for the ornaments, alternate schedules (in case you miss a day

, and lots of ideas.
I will be doing it again with all three of our kids (8, 5, and 2) and I think it is appropriate from preschool-middle elementary.
Use coupon code: KIKI20 for 20% off the ebook

Go here to purchase Truth in the tinsel
Please feel free to send this out to your mom groups.